Russian Railways (RZhD) are trying to find more cost-effective ways for utilizing the railway equipment resources of its Central Infrastructure Directorate (branch of JSC RZhD). To reduce electricity costs, JSC NIIAS, a leading industry institute of JSC Russian Railways, developed a cutting-edge project called «SMART. Railway Switch Heating». It optimizes electrical heating of railway switches through process automation and autonomous adaptation to environmental parameters.
This type of project could not have been created without integrated cybersecurity. A successful attack on «SMART. Railway Switch Heating» could not only disrupt system operations but also threaten the information security and physical security of the infrastructure. Kaspersky technologies helped protect this project at all levels. One of these technologies is a specialized KasperskyOS-based solution called Kaspersky
IoT Infrastructure Security, which ensures that the internet of things is secure and functional.
Challenge
Electrical heating of railway switches throughout most of JSC RZhD network is
managed manually.
The existing switch heating system has the following flaws:
«SMART. Railway Switch Heating» will help resolve these problems through adaptive control based on the monitoring of the temperature of rails, weather conditions and the state of electrical devices. Automated online processing of these parameters will help optimize heating operations, and Kaspersky solutions provide comprehensive protection of the infrastructure and prevent cybercriminals from exploiting its vulnerabilities.
Importance of cybersecurity
Expanding automation and digitizing the infrastructure of Russian Railways significantly increases the risks of cyberattacks being launched against its facilities. Data transfer channels, cloud platforms and IoT devices attract the most attention from cybercriminals.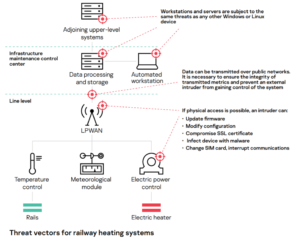 Internal threats
Unauthorized connections to the "SMART. Railway Switch Heating" system may lead to malware infection of an automated workstation and, consequently, cause a disruption in its operations. For example, cybercriminals might attempt the following:
Manipulate the weather control module (WCM), electrical control module (ECM), rail temperature control module (RTCM), and the LPWAN communication module (CM) to breach the integrity of transmitted data.

Disable the «SMART. Railway Switch Heating» system or its individual components.
External threats
Digital infrastructures connected to the internet are especially prone to attacks from the outside. The "SMART. Railway Switch Heating" system is most vulnerable to the following threats:
Compromise that results in incapacitation of the system or its individual components.

Remote manipulation of the WCM, ECM, RTCM and CM in order to breach the integrity of transmitted data.

Capture and modification of information transmitted over public networks.
Problems (threats) that arise during administration and operational maintenance of the system
Difficulty monitoring the IoT infrastructure (lack of a complete picture in real time)

Delayed response to information security incidents (late detection/notification of the problem)

Complexity of management and operational maintenance (lack of a unified system for management, reporting and incident response)
Impacts of cyberattacks launched against the «SMART. Railway Switch Heating» system
Loss of the capability to monitor the IoT infrastructure (and incorrect data received from the ECM, RTCM and WCM)

Disrupted operations of the WCM, ECM, RTCM and CM


◦

Loss of control


◦

Incorrect data received from the ECM, RTCM, and WCM; inappropriate control input


◦

Failure of the railway switch electrical heating system
Existing problems handling information security incidents
Inability to detect dangerous manipulation prior to its obvious negative effects (physical damage)

Slow response to information security incidents

Lack of a unified system for managing and responding to information security incidents

Lack of information security incident reporting